Foreword
In our mission to protect and promote the welfare of children within our community, the Croydon Safeguarding Children Partnership (CSCP) recognizes the pivotal role of knowledge, skills, and ongoing learning. We understand that safeguarding children is a shared responsibility, and our ability to ensure their safety and well-being relies heavily on the capabilities of our workforce.
This Training Policy is designed to affirm our commitment to enhancing the competence and knowledge of all those involved in safeguarding children. It sets forth the principles, guidelines, and procedures that underpin our approach to training and development, ensuring that all members of our partnership have access to the necessary tools and resources to fulfill their roles effectively.
This policy serves as a blueprint for the identification of training needs, the creation of tailored training programs, the measurement of their impact, and the perpetual enhancement of our training initiatives. By promoting a culture of learning and professional growth, we aim to equip our workforce with the expertise and knowledge required to respond proactively and effectively to the challenges that may arise in the field of child safeguarding.
The CSCP oversees and assesses the effectiveness of training, including multi-agency training, aimed at ensuring the safety and well-being of children. In Croydon, this responsibility is delegated to the Learning and Improvement Group (LIG), which reports to the Quality & Improvement Group (QIG).
Image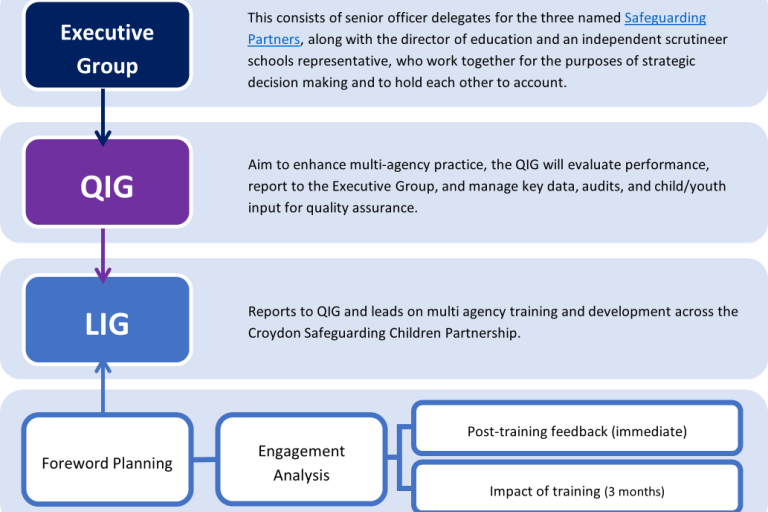 This LIG subgroup diligently monitors the participation in training programs and regularly assesses the training offers provided by the CSCP to ensure they align with the learning from local safeguarding practice reviews as well as national concerns. The evaluation process encompasses various methods, including soliciting feedback from participants after each training session, where they rate their experiences regarding content, trainers, and the learning environment.
Additionally, the CSCP aims to send out a post-training evaluation form to attendees up to three months after the training session, to gather an understanding of the application of knowledge and skills acquired in the workplace. This comprehensive evaluation approach ensures the ongoing improvement and relevance of our training initiatives.
We call upon all stakeholders within the Safeguarding Children Partnership to embrace this vision, actively participate in training and development, and work together to create a safer environment for every child in our care. Together, we can uphold our mission to safeguard children and provide them with the support and protection they need to thrive.
Competence Still Matters
In 2014, the London Safeguarding Children Board issued guidelines titled "Competence Still Matters: Safeguarding Training for All Employees & Volunteers." These guidelines outline the responsibilities of organisations regarding safeguarding training for their staff and volunteers.
This framework serves as a tool for employers, voluntary organizations, and Local Safeguarding Children Partnerships (LSCPs) to meet the essential requirements for providing training on safeguarding children. It establishes a structure for both single and multi-agency training, enabling professionals, volunteers, agencies, organizations, and services to acquire the necessary skills and knowledge to work effectively in safeguarding children. It aims to ensure consistency in delivering such training across the various London boroughs while allowing for flexibility to address local needs. While the adoption of "Competence Still Matters" is not obligatory, it sets a benchmark for best practice and assists the Board's partners in fulfilling their responsibilities outlined in "Working Together to Safeguard Children."
"Safeguarding training should take place within a week of commencement of employment and refresher training at least every three years."
To cater to diverse learning needs and professional roles, the CSCP offers a range of training courses categorised into training groups (1 to 8) and training stages (1 to 8). The training group and stage can be found in the training description for each course on the CSCP website.
This system ensures that individuals can easily identify the course that best suits their specific workplace requirements, thereby promoting effective training and safeguarding practices.
Safeguarding courses and training dates are published the 1st week of every month via the CSCP training newsletter and updated weekly on the CSCP website. Occasionally special events are promoted using internal communication channels.
Safeguarding Training: e-Learning
Before enrolling in any of our training programs, participants must successfully complete a Safeguarding awareness course through their respective agencies or via the Croydon Me Learning platform. If you have not fulfilled this prerequisite, you must take immediate action by reaching out to your agency's Safeguarding Team.
If your agency does not provide this essential training, you must proactively complete safeguarding courses via our online learning platform Me Learning. Failure to meet this requirement may impede the ability to participate in training programs. Timely attention to this matter is crucial to ensure compliance with our training requirements.
The Me Learning platform offers free access to staff members, volunteers, and community members engaged in work with children and families in Croydon. Additionally, residents of Croydon who are parents or caregivers can also access e-learning courses, which can be conveniently completed at their own pace and on their schedule.
The CSCP reserves the right to reject applications where the postcode is outside of the London Borough of Croydon.
Learning accounts will be closed if.
I.        There has been no activity on the account within a year of activation.
II.       Courses have not been completed within six months of enrolment.
Safeguarding Training: In-person
Courses are available to book via Eventbrite using links from the monthly CSCP newsletter and training page on the CSCP website. Courses are assigned on a first-come, first-served basis, and based on a one-person booking. Eventbrite provides a waiting list facility if a course becomes full, if a place does become available there is a 24-hour window to accept a released ticket. If a ticket is not accepted within this time frame, the system will automatically release the ticket to the next person on the waiting list.
Full course details are available on the main CSCP website as well as the Eventbrite booking page. For detailed information regarding the different roles and their training needs refer to the Staff Training Groups section on the CSCP website. Attendees should familiarise themselves with the course content to ensure the course is suitable for their training needs.
Upon booking a course, a confirmation email will be sent to the registered email address. Additionally, attendees will then receive an automated reminder email that is scheduled to be sent.
i. One week before the training
ii. One day before training
A final reminder 15 minutes before the training session. If confirmation emails are not received, it is advisable to verify the accuracy of the email address or inspect the junk mail folder.
**On the occasion reminder emails are not received it is the responsibility of the attendee to make a note of the date and time of the training at the time of booking and follow up with CSCP training with any questions.
Course fees
Courses are free to staff working in agencies in Croydon that have contributed financially to the Safeguarding Children Partnership. These are staff from:
London Borough of Croydon

South London & Maudsley NHS Unit

Croydon ICB

Croydon Health Service

The Metropolitan Police

National Probation Service
Group booking
We are unable accommodate large block bookings from organisations who are not among the groups specified above. We may allow up to 5 places to be reserved at our discretion, depending on the availability and suitability of the training requested.
Cancellations and No-shows
Eventbrite is a self-service platform where attendees can make cancellations. Cancellation via Eventbrite is the preferred option as this prevents delays in acknowledgment. Eventbrite will send a cancellation to the registered email address a copy will also be sent to the CSCP training mailbox. Notice of non-attendance must be provided at least three working days before the training. This is to allow notice to be given to trainers, and venues and for waiting list tickets to be released to other attendees.
As of the 1st of September 2023, attendees who fail to show up will be added to the no-show list and will be restricted from booking further events for the next six months. This stringent measure is necessitated by the escalating financial burden incurred by the CSCP due to unutilised slots for training events. Cancellation notices received on the day of the event will also place the attendee on the no-show list
The CSCP reserves the right to cancel or reschedule face-to-face training sessions if attendee numbers have not reached the minimum requirement determined by individual trainers.
Certification and Evaluation of Training
A Certificate of Attendance will only be issued to participants who are present for the entire course and who have completed a training evaluation. In face-to-face training sessions, attendees must register with the trainer at the start of the training session. Without this evidence, an attendance certificate will not be issued. Trainers reserve the right to refuse access to training if an attendee is more than 15 minutes late. Late arrivals who have been refused entry will have to rebook onto the next available date. Persistent late arrivals will also be placed on the no-show list.
Attendees should receive a link to the evaluation survey at the end of the training or immediately after the course via email. A second evaluation will be sent out three months post-training to the attendee for feedback on what has been learned and applied in practice in the workplace.
Attendees will receive an attendance certificate to the registered email account once an evaluation response has been received. It is advised this should be printed and kept with your own CPD evidence. Attendance certificates are held on file by the CSCP for up to 18 months, with copies available on request.
The CSCP may contact you six months after training as part of a randomly selected sample to check what impact training is having on local practice and whether it is improving outcomes for the children and families we work with.